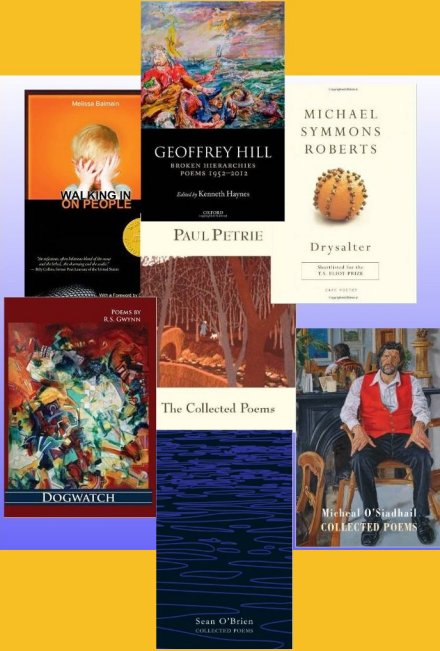 Omnibus Review:
Broken Hierarchies - Geoffrey Hill;
Collected Poems -Michael O'Siadhail;
Collected Poems - Sean O'Brien;
Collected Poems - Paul Petrie;
Drysalter - Michael Symmons Roberts;
Dogwatch - R.S. Gwynn;
Walking In On People - Melissa Balmain
(All titles available at outlets such as Amazon.com. Sean O'Brien's Collected P:oems is a Kindle book on Amazon.com, but can be found in paper elsewhere.)
The New York Times Book Review has long been something of a sad joke played on the literary world, so I should not have nourished very high expectations for their recent special issue supposedly devoted to contemporary American poetry. Beside some pretentious posturing of less-than-insightful considerations of the value (or lack of same) of poetry in the contemporary world (William Logan, usually one of the few critical voices worthy of consistent trust and one of our best poets, is not enhanced by his company here), the NYTBR did actually review a few books—a very few, but multiple factors of their usual allotment. Given particular attention are books by James Franco, actor and degree-accumulator, and Patricia Lockwood, whose collection Motherland Fatherland Homelandsexuals, ponders such imponderables as: "What if a deer did porn? Is America going down on Canada? What happens when Niagara Falls gets drunk at a wedding? Is it legal to marry a stuffed owl exhibit? What would Walt Whitman's tit-pics look like?" (I quote from promotional copy). The Times has reviewed the book not only in the Book Review but in the regular paper and profiled her in the magazine in the past month. Most poets would die for such coverage; obviously, they're not asking the right questions.
(Lockwood's is a bad book, but not as bad as I anticipated. She has a much better sense of humor and of the absurd than Sharon Olds. Parts of some of her poems actually display a certain amount of wit, but she is a one-trick pony and, like Frost's fireflies, "can't sustain the part.")
But there have been books of poetry published over the past year or so that are worthy of close and continued and repeated attention, though they seem to have escaped the Times' attention span. All should have much more consideration than I can give them here—and I could easily mention more—but if a few readers are directed to books they might otherwise have missed, my purpose is served. I also am going to include books by non-American poets; although I am ill at ease in a world ruled by multinational corporations whose claim to personhood grants them more rights than actual people, to we who are both blessed and cursed with an international language it seems parochial to restrict one's coverage to these shores.
Certainly the highlight has to be the publication of Geoffrey Hill's Broken Hierarchies (Oxford University Press). This is Hill's Collected and logs in at nearly 1000 pages, over 800 of them written since the mid 80s. Ludo and three of the collection of books Hill calls the Daybooks see book form for the first time; in addition, several other works, in particular Hymns to Our Lady of Chartres, have been substantially revised and expanded. This explosion of work, particularly since the mid-90s, has brought concern from a number of critics. Hill's poetry up through The Mystery of the Charity of Charles Pe′guy in 1983 emerged in small, tightly-knit collections spaced over gaps of several years. His work since has been much more expansive and tended to be freer in form, though much of the work in the past decade has returned to extraordinarily complex forms, some of which seem arbitrarily imposed over extended sequences.
I have been particularly wary of his triptych The Triumph of Love, Speech! Speech!, and The Orchards of Syon, which appeared between 1998 and 2002. Speech! Speech! I find especially troublesome, the effort it demands seems to result in diminishing returns. Hill's poetry has always demanded a great deal of effort, but it usually rewards it. The manner in these poems also appears a return to high Modernism; Hill has always been influenced by Modernism as a poet as well as being an insightful critic of it (Hill is one of our greatest living literary essayists), but I remain skeptical that its influence in these poems is benign for the most part.
These caveats are offered uneasily. Hill has been a difficult poet from the beginning and he takes no prisoners. I have read Broken Hierarchies in its entirely twice and the other collections that appeared previously many times. This is a volume that anyone who wants to know the poetry of the last fifty plus years has to come to some sort of terms with; the work of the past couple decades will take many critics more than a couple decades to come to terms with. With all my equivocations about the more recent work—and there is clearly greatness in it—just the work of Hill up through the Pe′guy would make him our greatest living poet.
Michael O'Siadhail is not a name much known in American poetry, but his Collected Poems (Bloodaxe) incorporates thirteen volumes and logs in at 800-plus pages. O' Siadhail is an uneven poet—he writes a great deal and individual poems can include a stinker of a line within a lovely passage. Many collections focus around particular themes: The Gossamer Wall is particularly interesting in how it deals with the Holocaust through a series of interconnected lyric and narrative poems. A Fragile City is heavily influenced by the ethics of Levinas. Yet he can also title a collection Rungs of Time which makes too much of a metaphor that certainly would be exhausted after a couple poems, rather than winding through an entire volume. His 2010 collection Tongues deals with etymological roots of words from an impressive array of languages (the poet is a linguist), but dozens and dozens of poems dealing with word origins pall after a bit. O'Siadhail has a Victorian expansiveness about him which can make him difficult to quote in snippets that would leave an appropriate impression of his work. But through the entire corpus of his work the poet's spirit is one of graciousness and, at his best, subtlety:
I feed on such courtesy.
These guests keep countenancing me.
Mine always mine. This complicity
Of faces, companions, breadbreakers.
You and you and you. My fragile city.
The overtones of "countenancing" and "complicity" add a further dimension to what is going on here. It would be welcome to have a good selected edition of O'Siadhail's work. His Collected can be a bit much to wade through at times, but there is much fine work here. The book comes with a CD of the poet reading nearly 40 of his poems.
Sean O'Brien's Collected Poems (Picador) weighs in at a bit less bulky 500 pages, consisting of nine collections plus an excerpt from his translation of Dante. Long identified with Newcastle, O'Brien is also a good practical critic. His Collected shows considerable range of themes and styles. His earlier books in particular demonstrate an energetic anapestic line:
They are bored with the half-life of scholarly myth,
Bored with the gaze of the sunblind student
Attacked by nausea on a bus to the Gut
Where adventure appears in a glass of anis
As a species of maritime fraud
At which the police can only smile
As they sit by the fountains comparing their guns.
There is a restless, searching quality to O'Brien's poetry, an urban poetry of decay, concerned with the city's hidden places. Trains and ghosts, and ghost trains, inhabit a number of poems, and we see the detritus of a post-industrial north, further ravaged by Thatcher, Blair & Co. O'Brien has a strong satirical sense; witness the beginning of "Welcome, Major Poet!":
We have sat here in too many poetry readings
Wearing our liberal rictus and cursing our folly,
Watching the lightbulbs die and the curtains rot
And the last flies departing for Scunthorpe.
Forgive us. We know all about you.
His collection The Drowned Book was the first collection ever to win both the T.S. Eliot and the Forward Prizes (The feat has since been duplicated by John Burnside), so he has merited considerable attention in England, though his Collected has, surprisingly, not been widely reviewed. Although he is a very English poet in terms of reference, he clearly deserves more attention on this side of the pond.
Continuing with retrospective volumes, I want to call attention to Paul Petrie's Collected Poems. Petrie, who died in 2012, was my mentor and friend, and I can't pretend to much critical distance here, but this book holds the work of a lifetime successfully dedicated to poetry. The poems are not arranged chronologically; the ordering was carried out by the poet late in life. The subject matter is wide and the styles are varied; Paul would work the gamut of available forms. I cannot do better than quote X.J. Kennedy: "When the best American poems of the Twentieth and Twenty-first Centuries are assembled, it won't matter who copped more prizes or was the subject of more dissertations. All that will matter will be the poems and whether people want to remember them. And then, if there is a just God in Heaven, or even if there isn't, Paul Petrie will have some poems in there. He did so much that will keep."
Amen.
Moving on to individual collections. I cannot think of a book in a long time that I've found more impressive than Drysalter (Cape) by Michael Symmons Roberts, the winner of the 2013 Forward Prize. Roberts' previous collections have been of interest, but Drysalter boosts Roberts into elite company here. The book is a series of 150 fifteen-line poems, matching the number of Psalms. Roberts seems to find about every available conceivable way to shape his fifteen lines; most long sequences tire and seem to demand selection. Not here. Roberts hits a high level from the first poem ("Small breaks first: cup on the marble floor, / mirror on staircase, cracked watch-face, / hairlines in roof tiles. Then it escalates.") to last ("So once again we walk and witness, / give thanks to the tangible and visible, / but no one dares to sing a note, dig in a heel.") There is a visionary quality to many of the poems—the beginning of "The Sea Again":
has been among us in the night.
I knew it from the trace of grit,
beneath my feet, salt on my tongue-root.
The very last S of the backwash
filled my ears. Yet by dawn there is was
tame between the harbor walls.
Drysalter ranges widely over subject matter; it is unified by its sense of vision as well as the number of lines. It demands, and rewards, re-reading. Roberts has set the bar high and cleared it.
It has been far too long since R.S. Gwynn last published a full-length collection. The wait is now happily over with the publication of Dogwatch (Measure). The collection does not strike out in new directions, but the wry and witty perspective one and the consummate use of forms (particularly repeating forms) one associates with Gwynn are very much in evidence here. Literary take-offs frequently offer a good vantage point for the world's follies: "A Darker Round" updates Dante to find room for plumbers, contractors, insurance claims adjustors and their ilk. I am glad to see "Ballade Beginning with a Line by Robert Bly" (remember him?) in more permanent form and delighted in finding Larkin's Mr Bleaney reincarnated as "Mr Heaney": "'This was Mr Heaney's room. The peat's / From off his boots. It got into the rug / And won't be Hoovered out. Likewise the sheets / And pillow case…'" More seriously, "On the Lea, April, 1621" is a poem that will last a long time, certainly one of the greatest fishing poems ever written. Making use of a shared pastime of two fishermen, who happened to be Izaak Walton and John Donne, the poem does not lend itself readily to being excerpted. A three-page poem written in heroic couplets, it unfolds gradually and with considerable grace. One couplet reads: "Praise be to Him Who has provided much / To one of supple wrist and gentle touch." Suppleness and a gentle touch are certainly in evidence in this poem.
With her first full-length collection, Walking in on People (Able Muse), Melissa Balmain stakes her claim to membership among our best writers of light verse. Light verse is a misleading term. Most of Balmain's poems are not light in the sense of frivolous or superficial. They often raise serious topics, but they do so with a wonderful sense of humor. Children know poetry can be fun; that seems to be educated out of people quickly. And "Walking in on People" is fun. The puns—that use of words condemned by writers of more substance than Shakespeare or Joyce—are wonderful. "Hard-shelled" begins "A noble urge to liberate the lobsters / came over me in Wal-Mart yesterday" but economics soon overcomes idealism. I quote "Tale of a Relationship, in Four Parts" in its entirety: "Kissing / Hissing / Dissing / Missing." Pretty simple? Try coming up with one yourself. Or maybe talk with a Gen-y-er: "Come hang with me and all my bros-- / we'll grab some brews and Domino's / and Netflix The Avengers next. / Later, maybe we can sext." Fluffy doesn't like the family's new arrival: "It can't climb up a tree, / it can't chase balls of string, / it leaves you zero time for me-- / just eat the wretched thing." And many, many more like these. If you are wanting to convert someone who thinks reading poetry is only a slight improvement over visiting the dentist, get him or her this book. Balmain is now editor of Light; I can't think of anyone better to carry on the tradition.
I don't intend this quick jaunt through the above to be in any way an exhaustive look at all the best that's been published in English-language poetry recently, or even a typical sampling (I only wish it were), but simply some of the work I have been most impressed with over the past year or so. It's not all the poetry that's fit to read, but more than one finds in the Times.
http://www.expansivepoetryonline.com/ Robert Darling
Expansive Poetry and Music Online
July 30, 2014
Robert Darling, a noted and widely published poet and critic, is also an afficionado of Irish music, much of which he has shared with a grateful Webmaster, He has has been a professor for many years at Keuka College, in both the English department and the Fine Arts department..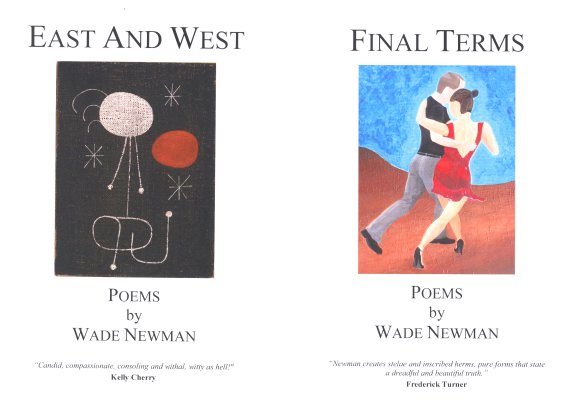 Double Volume
from Wade Newman
East and West/
Final Terms
Poems by Wade Newman
Pivot Press
Brooklyn NY 11231
2013
123 & 75 pp., $15.00
Wade Newman's Final Terms / East and West is/are his first poetry collection(s) since Poisoned Apples, also from Pivot Press. The reason for the equivocation(s) is that the collections are published in one volume; when readers are finished with one compilation, they need merely flip the book over and begin the next, there being no back cover to the volume but two front covers. (I'm sure there is a technical term for the context, but my printing and research prowess fail me here.) Poor bookstore clerks must be confused as to how to shelve the book, but it is a boon to the reader, having two volumes for the price of one.
Regardless of the format, it is good to have more of Newman's work available for a wider readership. While he has won several awards and been widely published, this substantial collection more than doubles Newman's poems available in book form. East and West is the briefer of the two volumes and consists mainly of very short poems, heavily influenced by Japanese forms. Final Terms focuses more on Occidental forms, including many villanelles. The poems in both collections are dominated by love and love's mishaps and the motif of dance permeates both as well. Some of the women are mentioned in both collections as well; for the purposes of concision, I will therefore consider the books as one for the rest of this review—the reader should, however, keep in mind the collections are presented separately.
While a few of the villanelles lack repeating lines of sufficient interest, many are fine uses of a difficult form; in particular "She Loves Me Less than Cigarettes" is wonderful, balancing the title line with the more positive "After each pack, we have wild sex." And then there's the rueful "Villanelle": "There's always a woman walking out the door / They exit the same way as the one before." "Four Poems in the Spirit of Catullus" do a fine job of incarnating a contemporary Catullus: one could easily imagine him declaring "No one's sexier when your temper's turned on" and delighting in such finery on his woman as "the spaghetti-strap black dress, / Argentine stiletto heels, / And edible underwear."
This brings us to another point: the poems in this book are overwhelmingly from a male perspective. One hopes we're past the time where this would be a problem for many readers. While there's no denying that a corrective was necessary, the commendable assertion of the female viewpoint should not render the comparable male one inappropriate. These poems, while strongly from a male viewpoint, should not be inaccessible to female readers. Doubtless, though, some will raise this complaint. Dogmatic readers will miss the playfulness of many of the lyrics. But that's their loss and not the fault of the poems.
Dance dominates many of these poems, several of which replicate the measures of a dance. Newman even offers special tango glossaries for the non-initiate. And one sometimes wonders whether the poet loves foreign women or their names more—he takes a great rhythmic delight in Uta, Yuri, Miwa, Nga, etc. Their names often merge marvelously with the dance steps and directions of the poem. It should be impossible for women so-named to be other than agile of foot.
The persona in many of these poems often seems as ill-starred in love as Larkin's; the women are often leaving, the speaker hears things second-hand ("Or at least that's what everyone says"), things are passing ("As each year I get older"; "The party was long over"), insults are endured ("I just crawl some hole and die"). But he keeps coming back for more and it is the dance that invigorates him.
There are poems of social comment, poems concerned about the craft of poetry, elegies and remembrances. But the overwhelming concern is with male-female relationships—several of the poems concerned with poetry end up addressing the muse as fickle lover. And this questioning and exploration of relationship is probably Newman's greatest strength, at least in these collections. And these lines at their best achieve a kind of simple profundity not easily captured. Consider the conclusion of "Before":
Before we slept together,
I slept with you alone.
Before we loved forever,
I loved you in a poem.
This looks simple—until one tries to write it. There is not much in the way of verbal fireworks in this collection but a plain-spokenness enhanced by formal technique that is impressive. Final Terms/East and West deserves repeated reading. Much like Japanese ink drawings, the poems have an understated elegance.
http://www.expansivepoetryonline.com/ Robert Darling
Expansive Poetry and Music Online
May 14, 2014
Click here to purchase Wade Newman's Final Terms / East and West
Robert Darling, a noted and widely published poet and critic, has been a professor for many years at Keuka College.
Baudelaire Visited Anew by Helen Palma

Selected Poems from Baudelaire's

Les Fleurs du Mal

Translated by Helen Palma

Pivot Press
Brooklyn NY 11231
2014
88 pp., $15.00

Though the writer has enduring philosophical differences with Charles Baudelaire, I found in Helen Palma's translations many caverns of jewels: an urbane sensibility; an interest in vice; numerous sensual and aesthetic pleasures; symbols of sex and death; corruption; the macabre; sound and sense and beautiful color. I also found the difference between myself and the 19th century French poet: where I discover a hole in my jeans, I smile free and easy, at one with Huck Finn; when this Frenchman contemplates his thread-bare pantalon he damns all the world. So be it. What is under consideration are Helen Palma's superb translations, not my discomfort with the author of the originals!

A major difference touching translation is how the original language sounds. English is different in nature compared to French, not so much as consonant French to vowel-rich Italian, yet bold, practical English is not well-suited to the soft, subtle alliteration of the sweetly soothing, and effeminate, French dropping of vowels. With fewer bellowing vowels there is the opportunity for musical mellifluousness -- lush and Debussy-like. Palma evidently heard, for this lushness is well translated in "The Sun":

And sometimes find the rhymes that died in dreams.
This life-giving father, and pallor's foe…

I should mention that "The Sun" is almost unique in this collection for the sincerity of its Romanticism. There is little of the picturesque decadence of the Symbolists; it betrays the poet's youthful optimism. I am reminded that Baudelaire's school chums recollected his writing-in and thinking-in verse. I can almost hear Blake.

Something else of French that Americans find unnatural is the cultural obscenity of the gigantism of Rabelais' Gargantua, Lachaise's Standing Woman, and Beaudelaire's "La Géante":

I'd probe at leisure her enormous limbs,
Climb up the slope of her tremendous knees;
And when the humid sunlight spread disease…

…et cetera, although I cannot agree with the poet's point-of-view because I was never so young, never diseased, and never so French, yet, through Ms. Palma's translation, I can see what he saw in the manner that he sees. This is how translation is supposed to work.

And then, the rhyme: Here I found delight, word to word, line to line, stanza to stanza, and verse to verse. I found the rhymes fitting in almost every instance; accurate in translation, appropriate to the purpose, and telling in meaning. Most any verse would serve as an example. I choose "Autumn Song" almost at random. The rhymes alone can tell the action of the drama:

dismal gloom / dreary boom
my soul / infernal pole
sacrifice / blood-red ice
log's descent / shall be rent
fearful throes / repeated blows
monstrous thud / fall's mud
for whom / with doom

Nowhere did I find that stretching after rhymes which is the sometime bane of translation. I found an ease, a rich variety of rhyme's application: in "To a Passing Woman" couplets that dragged deep in lament to rise in the concluding couplet above the pallid skies; in "My Beatrice" couplet after couplet of promise and fulfillment; and I expect that you will find meaning in many rhymes that I have overlooked.

Then, Ms. Palma is fastidious in her fealty to Baudelaire's peculiar adaptations of standard sonnet forms. Sometimes the rhyme scheme seems higgledy-piggledy, at other times to the purpose. A random reading of the 24 sonnets in this collection will surprise and delight. I choose the "The Blind Man" for example of strophic structure, a division of what would be the final sestet divided with a turn between tercets (eef/ggf):

And thus they navigate unending Night,
Eternal Quiet's twin. While at your height,
O City, how you laugh and sing and roar!
Your lust for pleasure carries you astray,
And yes, me too; far more blunted than they,
I ask: What are those blind men looking for?

And then, there is an exemplary excellence in many of these sonnets which can be found in the final word of the final line: That fulfillment of the expectations of the preceding 139 syllables is found in "The Cracked Bell" meaningfully and musically when the sound of the nail of the caesura "dies." Yet, for me, the most rewarding of exits was found in "The Setting of the Romantic Sun". Here is an ending, ending the ending: The end of the Romantic; the end of the sun; the end of the verse and of the song, a true sound sounding the fading echo of the clarion, ringing "How splendid…" and ending "cold snails." not so much a note as spittle on the reed.

In "The Cask of Hate" I found the meter of feet, hearing the poet's heavy steps beating a bear-like rhythm. This heavy foot-fall makes substitutions all the more poignant, all the more telling: As is heard in the heavy step and squeezing of,

"Buckets of blood and tears squeezed from the dead"

followed later by the stumbling dactylic,

"Hate is the drunk in the depths of a dive";

concluding with the slow spondaic substitution of,

"To ever fall asleep beneath the table."

Lovely. Another verse rich in knowing prosody is the first stanza of the first verse in this collection of translations, "Spleen (IV)" where the slowing spondaic substitution and the descending drag of alliterations well meets the sound to the sense:

When the low, leaden sky weighs like a lid
Upon the mind that old vexations bite;
When the horizon in black bile lies hid,
And pours a dark day down, sadder than night…

This spleen is just that, not in good humor, yet it is skilled versification, demonstrating invention both in French creation and in English recreation. Another instance of rich prosody is found in "From the Depths", a personalized Psalm 130. Do yourself a favor. Read this verse translation aloud, allow the sweet melodies to caress the tongue, the vibrations to message the throat, the invocations to seduce the ear. Here, the final quatrain of "Hazy Sky" will deliver a taste of Ms. Palma's recreation of the French-like luxury in language:

Dangerous woman, with your changeling clime,
Shall I adore as well your frost and rime,
And learn to draw from that pitiless winter
Joys keener than its ice-and-steel-tipped splinter?

I found in this collection many invitations to participate in ethical corruption, much in the way that Shakespeare requests our participation in the corruptions of Richard III. In "The Lid", Baudelaire would make us complicit in his stroking pleasures, the little sins against the cradle of his culture, which for myself I cannot do, yet I can and do find sympathy in the sound and in structure of the verse:

Go where we will, be it on land or sea,
Beneath a sun that's searing or cold-white,
As votaries of Christ or venery,
Possessed of millions or a widow's mite…

Why accept the pleasure but deny the seduction? Because, in the actual virtue of structured verse, Baudelaire rejects the corruption of transitory phantasmagoria, as do I. I wonder if he knew? Perhaps I have dilated over much on the grotesqueries and the psycho-personal excesses. Even so, knowing something of biography, you may also be reminded that the poet during composition was enjoying syphilitic euphoria while suffering syphilitic agonies; that he and his mistress were soon to die of syphilis; and of that body of Symbolist art inspired by The Flowers of Evil (think the etchings of Baudelaire's friend, Félicien Rops).

But then, here the question concerns the skilled translations of Helen Palma, which surpass goodness, and deserve a reading. Buy and read this highly recommended book.

http://www.expansivepoetryonline.com/ Michael Curtis
Expansive Poetry and Music Online
March 14, 2014 Michael Curtis, of Arlington, is a well-known sculptor, architect and poet.

For Ezra (Online Journal Of Translation) review of Palma's book

click here (Don't be misled by page title. It's the Spring 2014 issue. You'll have to page through the poems to find the review)

-----------

To purchase Helen Palma's book, click here now.

The Gardens of Flora Baum

A Poem by Julia Budenz



(To read Turner's review at World Literature Today,
click on the photo or on the headline)

Kudos to Frederick Turner (author of poetic epics Genesis; The New World, and numerous critical works) and World Literature Today for this review of one of the major literary events of the still-new century, the late Julia Budenz's Gardens of Flora Baum, published posthumously by Carpathia Press, under the able direction of Emily Lyle and Roger Sinnott. This writer had the privilege of publishing a very small piece of this work in 2007 under the Pivot Press imprint. Five volumes long, a single, unified work, it is the poet's life's work, begun in the mid-60s, and left partially unfinished at her death in 2010. Read Turner's review, and then, to get your own copy, go to Carpathia Press, which offers the book in a gorgeous sewn edition (shown in Turner's own photograph), and in a more affordable paper version, which is also quite beautiful, its covers decorated with photos, including several of the poet.

Arthur Mortensen
Expansive Poetry & Music Online
January 22, 2014

For other goodies, see below:

Some favorite authors: For Frederick Turner and Dick Allen, search Alibris.com, Amazon.com, and other online bookstores. Check also on Frederick Turner's Facebook and his web site. For Dick Allen, check his website. For those who wish copies of prior books published by Pivot Press, or by Somers Rocks Press, please contact the Webmaster. For Frederick Feirstein, the 3rd Musketeer of Expansive Poetry, check his website. For Carolyn Raphael, whose short narratives continue a great chain that includes Robert Browning, try her Web site. A writer from the South who's made a strong mark over the past decade or so, Jennifer Reeser, has a Web site to look at. For the very engaging Suzanne Noguere, she maintains a Web site here. For Wade Newman, who has a new book out, you can order a copy of 2013's Final Terms / East and West here.

Those of you fond of Dr. Salemi's essays and poems might want to look at Pennsylvania Review

Or you can purchase one of Dr. Salemi's books, Skirmishes from 2010.

A very rich site for art, essay and poetry: Newington-Cropsey Cultural Education Studies Center

For the painter Liz Holly's Web site, look at lizholly.com

For the Webmaster's new novel, an alternate history story, try: A Private Enterprise, Book 1, The Recruit