EP&M ONLINE BOOKSTORE

Wade Newman's double release:
East and West/Final Terms

---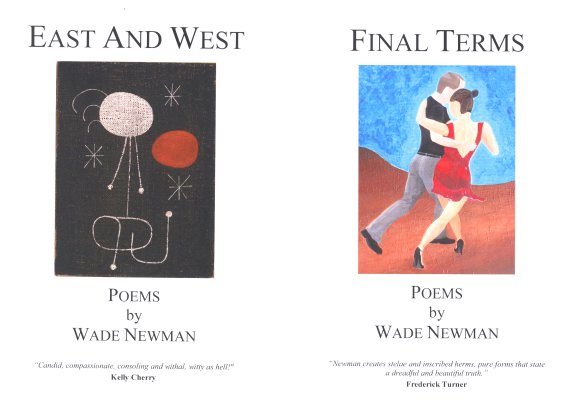 Pivot Press, 2013
Domestic US$15.00 Int'l US$18.50
+
applicable tax (NY only) and S&H (Single copy)
International ordering must be done using second PayPal button,
or book will be substantially delayed (months). Domestic Ordering



International Orders only
(differential between U.S. and international mail is US$3.50 on purchasing price)
---
Praise for Wade Newman:
"Candid, compassinate, consoling and withal, witty as hell."
—Kelly Cherry

"Newman creates stelae and inscribed herms, pure forms that state a dreadful and beautiful truth.'"
—Frederick Turner

Wade Newman is a widely published poet and a highly regarded tango dancer, among other roles, including father, husband, and overworked executive.

---
Expansive Poetry & Music Online Bookstore is pleased to present Final Terms/East and West, published by Pivot Press, and available at US$15 plus applicable tax (NYS customers only) plus shipping for domestic (U.S.) delivery or $18.50 International + S&H. If you didn't order above, scroll back and click Add To Cart. If you wish to order more than one copy, or find you have ordered more than you wanted by mistake, change the quantity on the shopping cart page. Use E-mail ordering ONLY if you don't wish to pay for this book online.
---
You will be taken to a new account page
on checkout
if you do not have a PayPal account
Information entered in PayPal will not be seen at EP&M Online
---
---
---
EP&M Online Bookstore by Somers Rocks Press
Publishers and Publishing Service Providers
Copyright (c) 2014 by Somers Rocks Press and Arthur Mortensen