EP&M ONLINE BOOKSTORE

Joseph S. Salemi's
Skirmishes

---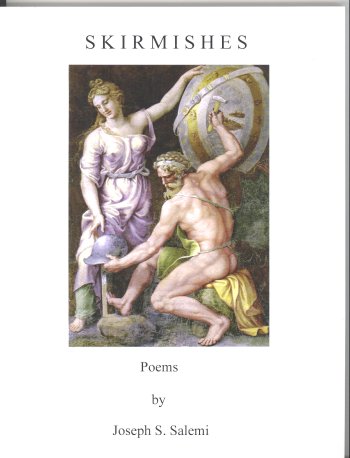 Pivot Press, 2010
Domestic US$15, Int'l US$18.50
+
applicable tax (NY only) and S&H (Single copy)
International ordering must be done using second PayPal button,
or book will be substantially delayed (months). Domestic Ordering



International Orders only
(differential between U.S. and international mail is US$3.50 on purchasing price)
---
Praise for Joseph S. Salemi:
"Joseph S. Salemi's erudite, poignant, pungent, often savage poems blaze through the haze that beclouds our land of milk and honey. With masterly craftsmanship, he has revived satiric verse at its very best."
—Henry George Fischer

"In this book of stinging satiric poems, Joseph S. Salemi, writing in the tradition of Martial, Swit, and Bierce, gives us the lowdown on what he calls 'this therapeutic, feelgood age.'"
—Jared Carter

Joseph S. Salemi is a widely published poet and translator in the United States, Canada and Great Britain. He has translated Catullus, Martial, Juvenal, Horace, Propertius, Ausonius, Theognis, and Philodemus. He is a recipient of a Herbert Musurillo Scholarship, a Lane Cooper Fellowship, an NEH Summer Seminar Fellowship, and the 1993 Classical and Modern Literature Award. He has also won numerous prizes for individual poems. He is a regular essayist and critic for <I>Pennsylvania Review</I> and is Editor & Publisher of Trinacria..

---
Expansive Poetry & Music Online Bookstore is pleased to present Skirmishes, published by Pivot Press, and available at US$15 plus applicable tax (NYS customers only) plus shipping for domestic (U.S.) delivery or $18.50 International + S&H. If you didn't order above, scroll back and click Add To Cart. If you wish to order more than one copy, or find you have ordered more than you wanted by mistake, change the quantity on the shopping cart page. Use E-mail ordering ONLY if you don't wish to pay for this book online.
---
You will be taken to a new account page
on checkout
if you do not have a PayPal account
Information entered in PayPal will not be seen at EP&M Online
---
---
---
EP&M Online Bookstore by Somers Rocks Press
Publishers and Publishing Service Providers
Copyright (c) 2014 by Somers Rocks Press and Arthur Mortensen