Archives: After December 2013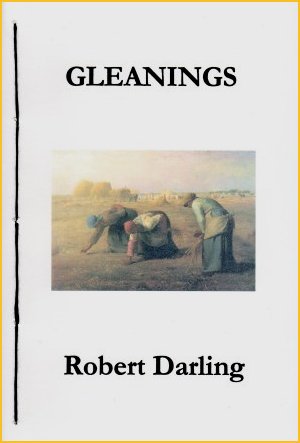 A New Harvest from Robert Darling

Gleanings

Poems by Robert Darling


Foothills Publishing
Kanona, NY 14856
2013
92 pp., $16.00

Foothillspublishing.com

A poet, as the rest of us, runs a constant race to stay ahead of mortality's tsunami. The author of Gleanings, with this collection, sends a loud message that he's still on the track. Despite ailments in the last few years that would flatten a healthy bear, Darling is out there. Of course, he's taller than most, so his strides can be long. And Gleanings is one of those, a fine new collection that steps along with a delightful mix of craft, humor, and wordplay. The latter two have become rare in any writing, and almost illegal in poetry. But they are only part of the overall mix.
Darling has always written with great clarity, sometimes mistaken for simplicity. As with Tom Carper, a poet with whom Darling shares strong traits, what seems simple may be a lens into deep water, as in the poem "Undine."

There were the three of us: the water,
me wedded to the silent hills,
and, yearning back to water, her.

Strange now, the quiet of the house.
I move among possessions I
am doomed to always think are hers....

The risk with references to mythology is that the author who starts in a pond may find himself in an ocean. Undine (often spelled Ondine) has been the subject of dozens of poems, novels, films, operas, ballets and even the Andy Warhol film The Loves of Ondine. Variations of Undine can be found as characters in eight or nine video games. And that's just what's exposed by a casual visit to Wikipedia. A more interesting look at Undine came from the iconoclastic Paracelsus (17th century). Sometimes described as the first modern physician, he considered alchemy not as magic but as a psychic process, how one peeled away presupposition and myth as barriers to seeing things as they are. His description of Undines as female spirits in the magical water of alchemy has to be taken in that light to be understood as anything but medeaval fantasy. (see Carl Gustav Jung's Alchemical Studies (1967) for more on Paracelsus). Darling's poem, in its contrasting female and male spirits, works the same theme with considerable art. The lost female lover, the male narrator left onshore, despite precise delineation, are given a dimension by their conflation with the Undine myth that turns them into archetypes, the Philosopher's Stone of psychological analysis. A poem of what may have been a personal loss becomes terribly familiar. And yet the poem works well without knowing anything about Undine.
Darling is a poet who likes to play in many fields, as in "The Abject Gardener."

My eggplant hatched some chickens,
My ginseng turned to scotch.
Primrose turned prurient
even while I watched....

The whole poem turns on metaphors, puns, a slightly sprung meter, and a basic hymn rhyme scheme. As a linguistic artifact, it's the kind that political reviewers cite to beat up poets they consider as unserious. But for this writer, this poem, and many others in Gleanings, suggest a poet with a strong grip on craft and art. "The Abject Gardener" through its art presents a funny representation of how many weekend gardeners see their little box of nature. But it's also about nature's joke on the fellow who thinks he knows her rules. One could go on but there are only twenty lines to hoe.
A post-modern trick that's probably used more in science fiction than anywhere else is to open with a long citation from another author, not a pithy quote, but a hundred or more words, as in "Post-Modern Love." In what will be a sonnet, Darling starts with a long quotation from Umberto Eco regarding post-Modern expressions of love. The quotation is tendentious, the sort of blather that makes this writer reach for a baseball bat. Darling takes the challenge he's made to himself.

"I love you madly." His lack of irony
all too apparent to his lettered belle.
"How can he mean," she thought, "what he says to me
if Barbara Cartland, in each wretched novel
has sprinkled her limp pages with these words?"
She looked at him, her trembling supplicant.
And then a line from Yeats occurred to her:
We loved each other and were ignorant...

As wonderful as it might have been to show the entire poem, that's illegal on a Web page regulated by copyright restrictions. Suffice it to say it's one of the cleverest and funniest sendups of academic theorizing this writer has read in a long time.
A central problem to a poet of recent generations is the demystifcation of nature. With the astonishingly rapid development of science, lots of easy metaphors went into the trash. In a world dominated by science, a lot of comparison is not so much hackneyed as it is idiotic. The modern attitude is best expressed by Mark Twain in Life on the Mississippi when he notes (in paraphrase) that he'd rather know why the sun shines than write a metaphor about light. Darling looks at this still controversial notion in "The Geese".

An arrowhead without a shaft,
impelled by instinct's sure return,
aimed at a target, north and south,
geese narrow over altered land.

They'll have to do for myth. These woods
were dispossessed by pious folk
who cleansed the savage with the Word....

Pond to ocean again -- the dispossession of magic from the world by science has not been an altogether clean process. Indeed, it's fair to consider demystication as the original sin of modernity, as the British Bureau of Irish Affairs, or the American Bureau of Indian Affairs, both run by the Puritan's intent on removing the "wrong" magic from their subjects. The poem's resonance is not just with the logical positivism derived from science, but with the arrogation of authority by yet another way of seeing things only one way. This won't make anyone on either the Left or the Right very happy, and probably not many in the sciences either, which is why it's such a terrific poem, reminding me of A.D. Hope's "Standardization," which looks at another clash of perceptions. Darling manages this quite differently, however. The strongest trait Darling shares with Maine's Tom Carper is a deceptively simple diction. The Australian poet (Hope), on the other hand, could often strike a reader as speaking from Olympic heights, which is not always an advantage with contemporaries. Further, on the theme Darling opens, not only is clarity required, but a trace of humility and more than a little regret, as in his final characterization of the geese:

Poor one note Sirens whose crude calls
no one will follow but the seasons...

"The Geese" is a brilliant poem in a brilliant collection. Gleanings is a book to spend some time exploring. The poet is a gifted prosodist (his uses of assonance and consonance deserve another review -- he is master of both). Darling does not write especially long poems, but each needs careful reading, the first time for enjoyment, the second to catch what you missed, the third to enjoy again, etc. Poetry collections aren't airport novels.
This is Robert Darling's fifth collection, including So Far and three chapbooks. He has also written a literary biography of A.D. Hope.
Foothills Publishing produces a good-looking volume, with nice layout and typefaces, and handsome covers. The addition of a bit of sewing in the binding looks good and will help the book survive being opened and closed repetitively, which an attentive reader will surely do. You can order this fine collection directly from Foothills Publishing's Web site. After last year's catastrophic fire, it's quite a feat that they're still able to do business. A greater one was publishing such a fine collection as Gleanings.

Arthur Mortensen
Expansive Poetry & Music Online
January 12, 2014

New Release From Pivot Press
Selected Poems from Baudelaire's
Les Fleurs du Mal
Translated by Helen Palma
From Pivot Press, just out, a fine translation of thirty-six poems from Baudelaire's 1857 Les Fleurs du Mal. Palma, who holds advanced degrees in Classics and Comparative Literature from the Graduate Center of the City University of New York, has been published in numerous journals, including The Formalist, Iambs & Trochees, Trinacria, The Raintown Review, and Pivot. Her e-book, Selected Translations from Charles Baudelaire's Les Fleurs du Mal, which contains some of the translations in this new book, appeared in 2007 at The New Formalist.
"Helen Palma has accepted the challenge that others have sometimes declined: to turn poems by Baudelaire into rhymed, metered lines that approximate the French forms. These translations retain what Baudelaire termed the 'evocative magic' of poetry...."
--Catharine Savage Brosman, Professor Emerita of French, Tulane University
"Palma has collaborated with Baudelaire's muse to create English poems that masterfully blend those hallmarks of post-romantic symbolist poetry: the seemingly inevitable flow of the original discourse and the armature of metrical and rhyming strictures whose faithful retention is always a challenge to the poet's translator....Baudelaire is well-served here by Helen Palma's versions, in which she once again bears witness to the axiom that to translate poetry successfully one must not only be a good translator but also a good poet."
-- Eric Sellin, poet and translator.
"Superbly surpassing such illustrious predecessors as Roy Campbell, Robert Lowell, Arthur Symons, and Richard Wilbur, in her faithful metrical translations Helen Palma seldom various Charles Baudelaire's rhyme schemes and always reenacts the eloquent splendor of his splenetic élan."
-- J.B. Sisson, poet and translator
Arthur Mortensen
Expansive Poetry & Music Online
February 3, 2014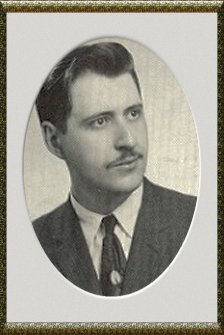 The Loss of a Great Friend
Alfred Dorn
1929-2014
We have sorry news to greet the New Year of 2014.
Poet, scholar, professor, performer and raconteur Dr. Alfred Dorn passed away on New Year's Day. Dr. Dorn, whose seminars in the 1980s and 1990s were instrumental in the classical revival (also called New Formalism), was a mentor and friend to many leading poets of the last three or four decades. His own poems appeared in over 50 journals. He won dozens of major awards. At last count, he had published six collections, including Flamenco Dancer (1959), Wine In Stone (1959) , From Cells to Mindspace (1997), Voices from Rooms (1997), and Claire and Christmas Village (2003).
For three decades Dr. Dorn, as Director of the World Order of Narrative and Formalist Poets, ran a worldwide contest for poets who used classical prosody, often in poems that told stories. He served as editor and publisher for a definitive collection of translations of Renaissance Italian poets, From Marino to Marinetti (1974), translated by Joseph Tusiani. For some years, he was Vice President of the Poetry Society of America. From their home in Queens, with its remarkable collection of literary and other artifacts, including the last word in literary lions, Dr. Dorn and his marvelous spouse, the late Anita Dorn, held court for nearly thirty years, hosting numerous and memorable parties and dinners. Dr. Dorn's readings on the poetry circuit were rare but usually heavily attended, especially his annual October library readings with fellow poet and playwright Daniel Fernandez. One can only pray that Alfred's heirs know that the treasures in the house are not so much the collectibles but the poems, prose, and other papers he left behind. The heirs of his mentoring will remember and celebrate this exceptional human being for the rest of our lives. Dr. Alfred Dorn, who was 84 at his death, will be greatly missed but will always be with us. Burial was on Saturday, January 11, in Flushing Cemetery. The family asks that memorials be given in Alfred Dorn's name to the Poetry Society of America.
For a marvelous essay on Alfred Dorn, visit Pennsylvania Review for Joseph S. Salemi's tribute.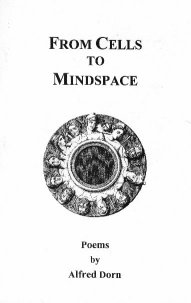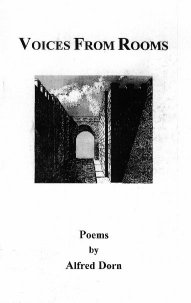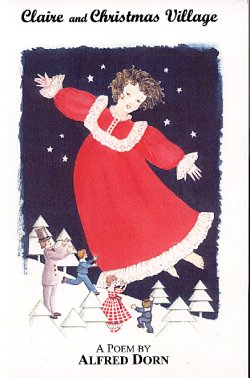 Copies of these and other books by Alfred Dorn may sometimes be found at alibris.com or powellsbooks.com
Arthur Mortensen
Expansive Poetry & Music Online
January 3, 2014